Lessons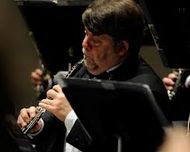 Internationally renowned woodwind artist and pedagogue Dr. Richard Kravchak is accepting a limited number of highly motivated oboe, bassoon, and classical saxophone students at any level into his private woodwind studio in Huntington, WV. Dr. Kravchak accepts students at all levels, from beginner to professionals preparing professional auditions. His only requirement for prospective students is that they have an outstanding work ethic and the ability to accept and respond to positive feedback regarding their playing.
Dr. Kravchak holds performance degrees from the Eastman School of Music, the Julliard School, and Florida State University. He served as Professor of Music at California State University, Dominguez Hills, where he was the Chairman of the Music Department. His duties also included directing the Music Education program and serving as a studio woodwind instructor. He is now the founding Director of the School of Music and Theatre at Marshall University in Huntington, West Virginia.
In addition, he has a performance career that has taken him to Mexico, France, El Salvador, Germany, China and many other countries as well as across the United States and Canada. His debut solo album, California Oboe, has received critical acclaim, and is available on iTunes.
Dr. Kravchak's students have been highly successful holding positions in orchestras and universities across the United States. His precollege students hold principal positions in a number of Youth Orchestras and at the world renowned Los Angeles High School for the Arts (LACHSA).
Email Dr. Kravchak for more information
Contact Dr. Richard Kravchak
Dr. Kravchak is now accepting a limited number of highly motivated oboe, basson and classical saxophone students.