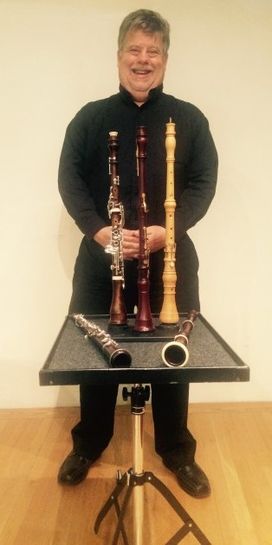 Dr. Richard Kravchak is one of America's most exciting oboists and accomplished academic administrators. He has been heard as an oboe soloist, chamber and orchestral musician worldwide, performing throughout Europe, Asia, and the Americas.
He specializes in contemporary music, with over 100 compositions written for him, and HIP (Historically informed practice) frequently performing period music on oboes of the Renaissance, Baroque, Classical, Romantic, and early 20th century.
Dr. Kravchak has appeared as a soloist with ensembles as diverse as The Dubuque Symphony, The University of Hawaii Wind Ensemble, The Carson Symphony, Banda Espinia de Portugal and the Orquesta Symphonica de El Salvador. The Dubuque Telegraph Herald has written "Kravchak's playing revealed a real beauty of tone, not monolithic, but always changing in color and intensity. He makes even the most difficult lines seem almost effortless." The Florida Flambeau raves "Kravchak made a good case for his virtuosity." Dr. Kravchak has been invited to present solo performances at conferences and festivals including The International Double Reed Society, The North American Saxophone Alliance, Festival Forfest, the International Clarinet Society, and many others.    
Kravchak holds performance degrees from the Eastman School of Music, the Juilliard School, and Florida State University. He has been Chair of Music at CSU Dominguez Hills and was the founding Director of the School of Music and Theatre at Marshall University as well as the Director of the School of Music at the University of Southern Mississippi. Currently Dr. Kravchak serves as Dean of the School of Arts and Letters at the College of Southern Nevada, our nation's 5th largest Community College.
 Concurrent to his appointment at CSUDH, Dr. Kravchak served on the conducting faculty of the Valley Youth Orchestras, as well as serving an elementary music instructor for the Los Angeles Unified School District. Dr. Kravchak's teaching has been widely recognized by his colleagues. Dr. Kravchak was the first California teacher to receive National Board Certification in music education. He has also received a Platinum Apple Award from the United Teachers of Los Angeles, a Los Angeles County Teacher of the Year award from the Los Angeles County Office of Education, and has been a finalist for a Bravo Award, granted by the Music Center of Los Angeles. Dr. Kravchak received the Dunsay award from the Music Center, as the Bravo Award Finalist who "did the most with the fewest resources".
Contact Dr. Richard Kravchak
Dr. Kravchak is now accepting a limited number of highly motivated oboe, basson and classical saxophone students.