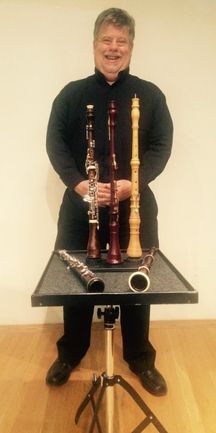 Internationally renowned as a woodwind artist, Dr. Richard Kravchak is one of America's most exciting oboists and accomplished academic administrators. He is one of those rare musical talents who is as passionate about reaching young people as he is about performing.
He has been heard as an oboe soloist, chamber and orchestral musician worldwide, performing throughout Europe, Asia, and the Americas. He specializes in contemporary music, with over 100 compositions written for him, and HIP (Historically informed practice) frequently performing period music on oboes of the Renaissance, Baroque, Classical, Romantic, and early 20th century. His debut solo album, California Oboe, has received critical acclaim, and is available on iTunes. The title track on his album New York Moments was submitted for Grammy Consideration.
Dr. Kravchak holds performance degrees from the Eastman School of Music, the Juilliard School, and Florida State University. He has been Chair of Music at CSU Dominguez Hills and was the founding Director of the School of Music and Theatre at Marshall University as well as the Director of the School of Music at the University of Southern Mississippi. Currently Dr. Kravchak serves as Dean of the School of Arts and Letters at the College of Southern Nevada, our nation's 5th largest Community College.
.
Contact Dr. Richard Kravchak
Dr. Kravchak is now accepting a limited number of highly motivated oboe, basson and classical saxophone students.